Time is so strange here....it seems like it's so abundant,endless almost.I wonder if there's a way to get used to these new feelings.
At first I couldn't understand why thoughts were entering my mind that I could not control.Thoughts that weren't mine.Strange thoughts,worried ones,sorrowful ones.then I realized that of course,the dead can hear your thoughts.
Xena's have been the strongest.Her thoughts of worry,of focus,of sorrow.I wish I could reach out to her right now,to hold her,touch her, anything to keep her from losing control.Please Xena if you can hear me...stay strong,my warrior...
Another voice belongs to Joxer.His regretful pain echoes like the winds through my spirit.How I wish I could calm him...tell him that it's not his fault.The blame does not rest on his shoulders.I know it couldn't possibly have been him.
*sigh* I can't rest.Not now.Not when so many need me alive.The plan...Ephiny and I have to work faster....
~~~~~~~~~~~~~~~~~~~~~~~~~~~~~~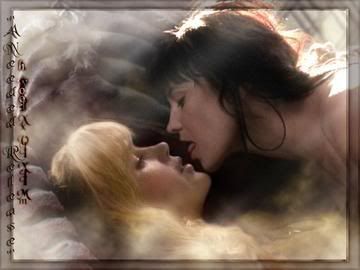 "Never regret anything that once made you smile..."