30 September 2004, 12:50 AM
Fahrenheit
Kath & Kim
Ok. I've seen the first eight episodes

Season two starts airing on Saturday, I believe.
I think the jokes translate pretty well to American, simply because I laughed a lot. Things like Kath fake tanning the wrong arm, the Sharon Stone bra and pants that comes without pants, all the little wrong word things, and the sight gags all come through very well

But then I'm not altogether sure I was laughing at all the same things Australians would laugh at. The accents, for example. I'm not sure how much is regular and how much is extra, so I just laugh when it's funny to me

I love the lookat moyie's

My son was in and out of the room the other day when I was watching and he thought it was quite funny. Then this evening I picked up our cat Francine (who looks a bit like Kath, everyone agrees) and did a run of lookat moyie, and the boy cracked up. So nine year-olds who see a few of the gags think it's funny as well.
The bit when they went to the club and had the $100 in cocktails was hilarious, naturally. Kath's face getting jiggy in the camera was just too much. Even Paco laughed aloud, which isn't always easy to accomplish. I should go rewatch that episode right now, actually

Next.
--edited for editing purposes
This message has been edited. Last edited by: Fahrenheit,
30 September 2004, 04:13 AM
Salem
'Party' is my absolute favourite episode

"Look at me mum, don't you think I look like Britney Spears?"
"Yeah yeah, you could be her sister, her sister Asparagus, Asparagus Spears, get it get it get it? hahahahahahaha"

I love when it's showing what Kath got up to during the night, dancing with the drag queens, pashing the taxi driver (which, by the way was her husband in real life) and then her sleeping on the front lawn with the sprinkler on.
And don't you just love Sharon? Hehe, I like her in the first episode, after she's been stalking Brett and she's sleeping in the armchair. The way she is lying their looks so funny. And later when she's filming him, and it shows her asleep on top of the dumpster or whatever it was

I'm too overly excited right now to type properly anymore, so I'll leave it at that for now.
I plan on throwing cooked rice at my sisters wedding

30 September 2004, 04:14 AM
Argeaux
Hey, thanks for that!

I can see now that a lot of the yumour translates well.
No one really talks like Kath and Kim in Oz, not to mention Prue and Trude. The accents are exaggerated based on how some perceive middle class and upper middle class suburbian Anglo Saxon speech.
The thing that probably doesn't cross over is when they mention the names of celebrities in Oz, but I don't think they do that very often.
Glad you enjoyed it! Now you've got to get yourself a 'hornbag' apron.

~~~~~~~~~~
02 October 2004, 01:45 PM
Fahrenheit
Season two starts tonight!!
*happy dance*
It'll be graysh, I can feel it in me waters.
--edited to replace defunct smiley address
This message has been edited. Last edited by: Fahrenheit,
03 October 2004, 01:08 AM
Salem
Hooray for Season 2

In the episode 'The Moon', Kath reminds me so much of my own mother :P
03 October 2004, 01:39 AM
Fahrenheit
For some reason, Trio is playing The Moon twice in a row instead of following it with Obsession. Then they skip to the one after Obsession. I...do not understand. They did it in the early showing and now in the now showing. hmpf... And no repeats of it in all of October and November. I am displeased.
03 October 2004, 01:43 AM
Salem
Ohh how dare they do that

So what did they show, everything except the one after Obsession?
Ring up and complain. Tell them you're bloody gropable!
03 October 2004, 02:10 AM
Fahrenheit
They showed everything up to 'Obsession', but not 'Obsession' itself, just 'The Moon' twice, then 'My Boyfriend' and 'Another Announcement'. They're showing the last two of Season 2 in a couple of days, apparently.
I've written them a polite e-mail explaining and asking if they plan to show the missing one. It's not like I can just watch Trio 24 hours a day waiting for them to fit it in. For cripity sakes.
Also, how do you even balance a pineapple on your head, chopsticks or no?

03 October 2004, 03:20 AM
Salem
Ah okay, I mis-read what you said, in my head.
I hope it was just a silly mistake and they will show the missing episode. Unless they thought it was too raunchy to show..

03 October 2004, 07:05 AM
Argeaux
I dunno how you balance a pineapple on your head, but oi loike what oi see!
Heh heh! You found a Kath smiley!

~~~~~~~~~~
03 October 2004, 03:19 PM
Fahrenheit
You noticed

04 October 2004, 06:13 AM
Salem
You know something I love?
When Kim is the lingerie model, after she leaves for the first time, when Kath says "Thanks Kim...berly"
Just felt like sharing

06 October 2004, 06:05 PM
Amethyst
I heard on the radio yesterday that it looks liek there is gunna be a Kath and Kim movie.

*********************************
06 October 2004, 06:15 PM
Fahrenheit
quote:

---

Originally posted by Princess Amethyst:
...a Kath and Kim movie.


---
*passes out even at the possibility*
*realizes context*
*gets up and repasses out under sprinkler*
06 October 2004, 08:12 PM
Amethyst
hehehe.
freak

*********************************
07 October 2004, 12:14 AM
Salem
I've been hearing about a movie.
When Rove asked them on Tuesday night, what they'll do next, if there'll be a movie or a 4th series, Jane just said "We don't want to run it in to the ground. Or, maybe we do" hehe
Gina and Jane were on 'Mornings with Kerri-Ann' today. It was a good interview. They played a clip of Gina when she did sketches as 'Kerri-Ann Kennel' in Fast Forward.

They also played a bit of the Midweek Ladies from 'Big Girls Blouse'


*screams at the top of his lungs* Series 3 starts tonight!!



*gets some Dippity Bix ready in the good room*
07 October 2004, 11:02 PM
Fahrenheit
quote:

---

Originally posted by Salem:
In the episode 'The Moon', Kath reminds me so much of my own mother :P

---
In what way, I wonder. The tsking at mean-to-Sharon Kim, or the vacation dealies?
--edited for smiley, again
This message has been edited. Last edited by: Fahrenheit,
07 October 2004, 11:39 PM
Salem
My mother loves going to the airport, even if she's not going on a plane. She'd love to dag around there for the weekend

Also, there's this one shot when Kath and Kel are in that VIP place, when Kath is looking at those magazines on the shelf, the way she stands there is so how my mum stands

10 October 2004, 12:13 AM
Salem
Hm. I tried to take a screenshot of the stance I was talking about, but for some reason none worked. I did take some from another episode just for fun, which worked fine..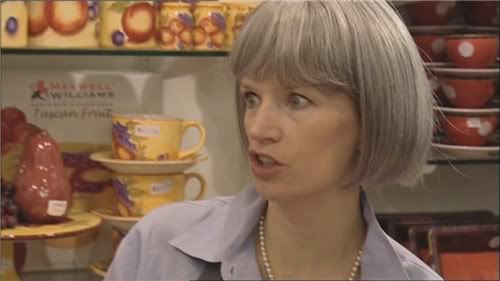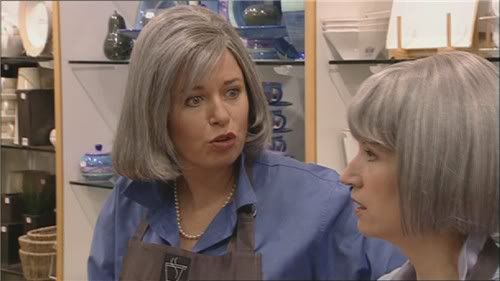 15 October 2004, 02:55 AM
Amethyst
Today when the lady came to change the books and stuff over, they had kath and kim season 1.. for $20.. so i thought screw it.. and got it..LOL
So now i own season 1, tought if i decide i don't like the shoe eh? and if i do, i'll have to borrow the eps of s3 i have missed from slem.
i found this pic at tv tome, when i was looking up to make sure all the eps on the dvd was the full seasons (i thought there would be more)
*********************************
15 October 2004, 05:20 AM
Argeaux
One of us! One of us!

~~~~~~~~~~
15 October 2004, 06:12 AM
Amethyst
Not yet, not yet.
I am just about to go to bed and watch at least 1 episode.
it's when i start sprouting kath and kimisms.. is when you know it's got me...

*********************************
15 October 2004, 10:11 AM
Argeaux
I just can't get enough of those little boxes. I'm addicted!
~~~~~~~~~~
27 October 2004, 02:35 AM
Fahrenheit
Get this. I wrote to the Australian ABC (we have an ABC as well) to see if there would someday be Region 1 DVDs and they said this:
"Unfortunately all ABC Shop DVDs are encoded in Region 4 only and will only play on Australian or multi-regional DVD players.
DVD Regions were imposed by the DVD industry itself when they invented the format. Their aim was to uphold copyright and prevent piracy. ABC, producing or reproducing content in our Australasia region, must print all its DVDs in Region 4. We aim to ensure our DVDs wherever possible play on Australian players only."
But...but...I want outtakes.
So can anyone else print them? Like, they could franchise the rights to some American company or whatever? gah....
I'm going to go watch the school reunion episode. Kath saying "dowager's hump" cheers me up every time

27 October 2004, 05:28 AM
Salem
That sucks

I hope someone else can release the DVDs. There's some real gems on there

What you REALLY need though, is the Big Girls Blouse DVD, so you can watch the little 5 minute or so K&K sketches

A few scenes from Kim's Wedding.. (sorry about the poor quality)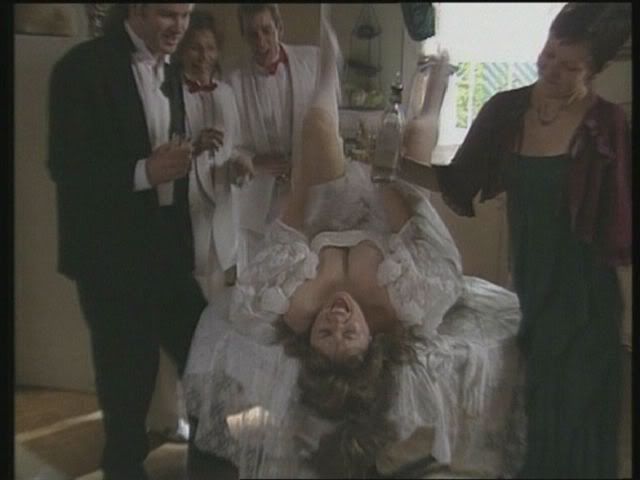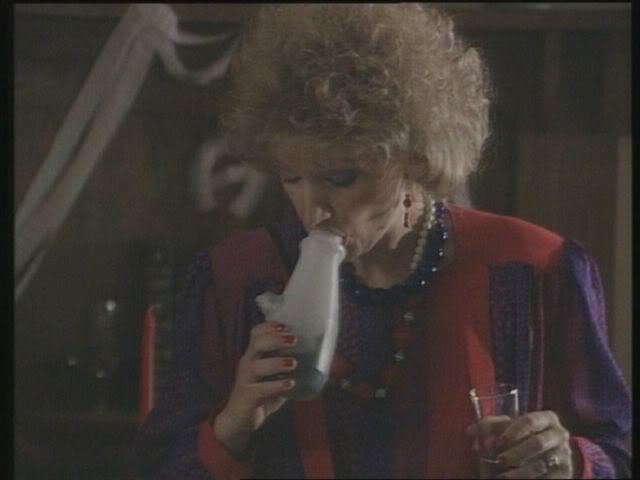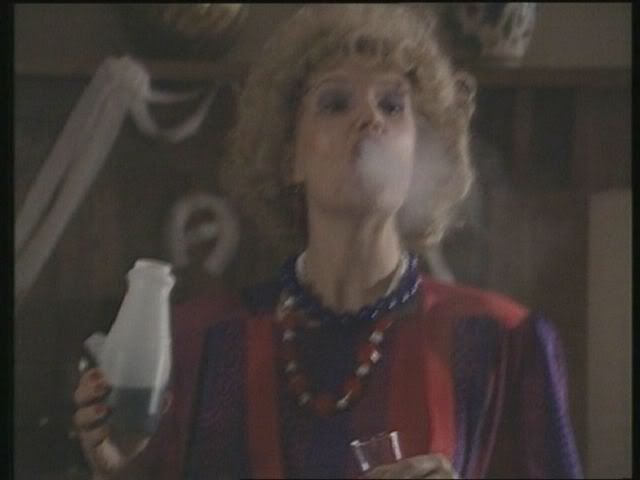 Hehehe...
The series doesn't really follow on from the sketches though. On the first season DVD, they have "Kim and Brett's Connubials" as a special feature, which you can catch Kim watching a bit of in the first episode. You don't actually see the wedding though, just a bit before, and then coming out and going to the beach for photo's.
The footage you're watching is supposed to be what Sharon filmed, so you don't get to see or hear her. Just people talking to her.
Jane played Brett in Big Girls Blouse, at the very end of the final sketch. She played him as a male version of Kath, which was quite scary :-P
I'm hoping against hope that they release "Something Stupid" on DVD, which was the successor to Big Girls Blouse. That had K&K shorts on it, in which Kim was pregnant. In one of those, Marg "Marion" Downey played 'Nanna Day' hehe

I hope she shows up as Nanna Day in this current season

My word I've rambled..