They say the music you listen to tells a lot about you...
Right now, I've got:
1.I'm afraid of Americans -David Bowie and Trent Reznor
2.Animals-Nickelback
3.Petrified-Fort Minor
4.Excess-Tricky
5.Before I'm Dead-Kindeytheives
6.Zombie-The Cranberries
7.The Walking Dead-Z Trip feat. Chester Bennington
8.So Unsexy-Alanis Morisette
9.Paper Bag-Fiona Apple
10.Wind it Up- Gwen Stefani
11.Crazy Bitch-Buckcherry
12.One Minute Man-Missy Elliot
13.Operate-Peaches
14.Name of T-The Crystal Method
15.Mortal Kombat techno theme
16.If you ever did believe-Stevie Nicks w/ Sheryl Crow
17.I write sins not tragedies-Panic at the Disco!
18.Call me when you're sober-Evanescence
19.Our Truth-Lacuna Coil
20.Hella Good-No Doubt
21.The Perfect Drug- Nine Inch Nails
22.Get Stoned-Hinder
23.Coming Undone-KoRn
24.Express Yourself-Chrles Wright and The Watts 103rd Street Rhythm Band
25.Duality-Slipknot
~~~~~~~~~~~~~~~~~~~~~~~~~~~~~~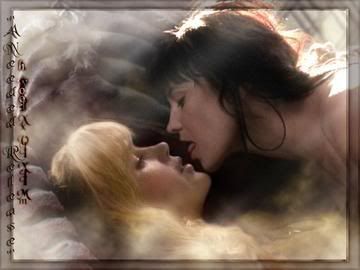 "Never regret anything that once made you smile..."