25 December 2004, 08:58 PM
xenacrazed
CD reviews
Got a cheapo used debut cd from
Action Action
entitled "Don't Cut Your Fabric to This Year's Fashion". Sounds like Echo & The Bunnymen or New Order or one of those type '80s bands. Took awhile to grow on me but it's a keeper.
27 December 2004, 10:19 AM
Shawn
Patti Griffin
- Impossible Dream - lyrics like:
The night wants to kiss you deep
And be on his way
Pretend he don't know you the very next day
Isn't it hard sometimes
Isn't it lonely?
How I still hang around here
And there's nothing to hold me
Ooof.
>>>>>>>>>>>>>>>>>>>>>>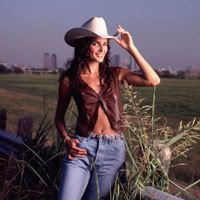 12 January 2005, 08:38 PM
xenacrazed
Black Jetts
"Bleed Me". Finally found a cheap copy of this, lucky to find a copy at all, always outta stock online. Raw garage punk, like early Mooney Suzuki or the Detroit Cobras. Awesome stuff.
KO & the Knockouts
Good thing i read a review of this cuz i would have passed on it in the used bins as the cover pic is way decieving of the music inside. This is garage punk but less fierce than the Black Jetts. More like the White Stripes but more soulful than bluesy.
22 January 2005, 06:10 PM
xenacrazed
i read reviews and whisperings on the net about it, finally was able to find a copy from a Canadian online store.
BBQ
's s/t cd is an amazing rock-n-roll album. Not really punk, not punkabilly, but gen-u-ine sonic rock-n-roll (if Elvis & Bo Diddley were children of the 90's and had joined The Cramps). It's a one-man band but raw as hell and wild as all get-out.
Also from the same Canadian online shoppe,
Anna and the Psychomen
's "No Please Not Me"- some garagey punk with great vocals and
Forgotten Boys
"Gimme More", Ramonesy like frantic punk pop. Great tunes all around.
29 January 2005, 12:40 AM
Smirk Morgan
Tom Waits Real Gone
There's something primal about the beats on this one. "Hoist that Rag" makes me want to join a mob and take on the system. Or join a pirate crew and pester the Royal Navy. "How's it Gonna End" makes me feel like I'm sitting at a campfire listening to stories. Great one to put on and just let wash over you.
The Beta Band Heroes to ZeroesXC
has already reviewed this one, but I just want to second the reccomendation.
30 January 2005, 01:29 PM
xenacrazed
Yep, gotta love the Tom Waits cd.
The Copperheads
"This Train is Gainin'" is a throw-back to the days of FM country/pop bands like Amazing Rhythm Aces. Not a bad track here if you like that sorta stuff. Had to check to the recording date to make sure it was recorded in 2004 and not 1975.
The new
Lemon Jelly
"64-95" is amazing. They have to be my favorite electronica band. More vocals on this cd than on their other 2 cd's. Shorter songs, more funky, great variety.
07 February 2005, 05:19 PM
xenacrazed
"This Right Here Is" from
Buck 65
. Hot diggity dog- alternative country rap! Some spooky stuff here, like "Cries A Girl" and "463". I dun listen to radio no more so i dun know if this is being played on radio but it sure oughta be.
Union Carbide Productions
"Remastered to be Recycled". A new cd of the best-of this Swedish hard rock/garage band. Mix in some Sabbath, Beefheart, Blue Cheer and mid-period Stones is this about what ya get, maybe. Excellent all the way through. This is music from the early-mid 90's. The band evolved into The Soundtrack of Our Lives, who'll have a new cd out soon.
10 February 2005, 08:32 PM
xenacrazed
"Superwolf" from
Bonnie "Prince" Billy & Matt Sweeny
, continues some great new music for '05. Sweeny is from Guided By Voices but the star here is Mr. Billy aka Will Oldham. Oldham- for them that dun know- records under that name, as Bonnie "Prince" Billy, and as/with Palace, Palace Songs, Palace Brothers and collaborates with other artists on projects like this one. He one busy dude. This cd is indie rock/singer-songwriter/alt-acoustic rock and features song really excellent songs and songwriting. Nice brooding music, gotta love it.
12 February 2005, 10:58 AM
xenacrazed
I missed out on "Lifted" when it first came out (though i'm gonna hunt a copy down now). The new cd from
Bright Eyes
is "I'm Wide Awake, It's Morning" and continues the trend of great releases so far in '05. Conor Oberst is Bright Eyes and he's written some great observation-on-life songs here. An alternative Dylan? I dunno, that's what some of the rock music media label him. Reminds me more of a blend between Willie Nile, Steve Forbert & Ryan Adams. Great stuff, whatever they label it as.
12 February 2005, 08:11 PM
Smirk Morgan
I just bought
Bright Eyes
last night. Haven't had a chance to listen yet.
Quit stealin' my thunder. lol
13 February 2005, 06:14 PM
Smirk Morgan
Listened to
Bright Eyes
today. Favorite tracks are "We Are Nowhere and It's Now" and "Land Locked Blues".
17 February 2005, 09:04 PM
xenacrazed
Fun indie rock/alt electronic cd by
LCD Soundsystem
. Excellent party tunes, gotta love "Daft Punk is Playing At My House" a radio hit if i ever heard one and "Losing My Edge" ha ha. High recommendation on this one.
02 March 2005, 05:53 PM
Smirk Morgan
The Features Exhibit A
This one is a lot of fun. Catchy stuff with a dark, desperate undertone. The title track got me hooked, but other standouts are "Me & the Skirts" (okay, this one made me totally think of
Sara
) and "Exorcising Demons".
Kings of Leon Aha Shake Heartbreak
I've only listened to this one once, but it's a nice jangly little album mostly about sex, drugs and violence. I sometimes think the lead singer subscribes to the Tom Petty school of enunciation, but that's not always a bad thing. The tracks are short and sweet--the whole album clocks in under 40 minutes.
02 March 2005, 07:36 PM
xenacrazed
Smirky's stealin my thunder, Smirky's stealin my thunder!

yeah i liked the new one by the
Kings of Leon
but i had to keep that lyric booklet close to figure what the hey the dude was singing.
Best album of '05 (so far)-
Iron & Wine
's "Woman King". An EP of EPic magnificance. This cd is more upbeat than the previous lo-fi recordings and Mr.Beam just keeps gettin better. Not as Gothic Alt-acoustic-rock as before, actually a bit cheerful in spots.
M. Ward
's "Transistor Radio" is probably what Iron & Wine purists were hoping for. Edgey No Depression alt-country-folk tunes sounding like something from way way waaaaaay back in time. Betcha Nashville would Callisto scream at the bare bones rootsyness of this fun stuff.
Then, to get up n get funky to some global rhythms, there's
World Psychedelic Classics Vol.3- Love's A Real Thing - The Funky Fuzzy Sounds Of West Africa
. This'll get yer bones crackin and yer head shaking yes indeedy dandy! Fave song here- "Keleya" from Moussa Doumbia heck yeah it funky.
02 March 2005, 07:36 PM
Sara
quote:

Originally posted by Smirk Morgan:
"Me & the Skirts" (okay, this one made me totally think of Sara)
Nora
showed me the lyrics to this song...it's my own personal anthem. Cause I'm the pimp like that.

____________________________

I

<3

4 foot 11, blonde, operatic wonders from Oklahoma.There is no charge for awesomeness or attractiveness
02 March 2005, 10:22 PM
Smirk Morgan
quote:

Originally posted by xenacrazed:

Smirky's stealin my thunder, Smirky's stealin my thunder!

yeah i liked the new one by the

Kings of Leon

but i had to keep that lyric booklet close to figure what the hey the dude was singing.
You were just waiting for me to post a review weren't ya?
Just for
Sara
Oh what a pity, oh what a shame
Me & the Skirts always turn out the same
A little bit angry, a little bit tame
Me & the skirts always turn out the same
or something like that...
This message has been edited. Last edited by: Smirk Morgan,
14 March 2005, 05:44 PM
xenacrazed
Got the new one by
The Kills
called "No Wow". No wow here. It's good but nothing to wow about. Not as good as their first record. Great lead singer but she needs some better songs, me thinks.
19 March 2005, 03:09 PM
xenacrazed
Al Green
's "Everything's OK" is soooo excellent. He sounds just as good as he did back in the '70s. This cd is even better than his last one, which was his first non-secular album in nearly 25 yrs.
"Samurai Struck" by the
Surf Coasters
is their first US domestic release. This is probably the best surf instrumental band in the world. Their cd's are usually only released in Japan and cost major $$$ to buy as an import. Don't know how they can release 2 cd's a year and still sound so raw & not repetitive.
19 March 2005, 03:22 PM
xenacrazed
quote:

Originally posted by Argeaux:
The Stands

If you wish people were still making albums like Blonde On Blonde or Strange Days this is the band for you.

Wearing their 60s and 70s influences on their sleeves The Stands believe in the old adage that there is only one song, people just keep playing it at different speeds. They've slowed the song back down, and it's all the better for their efforts.
yay, this cd finally was released in the US. Nice Byrdsian guitars, the songs did remind me of "Blonde on Blonde" as well as Roger McGuinn and The Band. This is a fun record that in a better world would be taking over radio. Thanks for recommending this,
Argy
20 March 2005, 05:39 PM
xenacrazed
The Doves
"Some Cities" is a poor follow up to "The Last Broadcast". Songs are too overblown, melodramatic, dull, way too serious. Their last cd kept my attention but this one leaves one daydreaming for something better. Have these guys been listening to Oasis?
27 March 2005, 05:42 PM
xenacrazed
Some mini-reviews
M.I.A
's "Arular" infectious electronica hip-hop pop. Dun always know what she's singing about but it sounds great.
BBQ
"Tie Your Noose" 2nd release, garagey rockabillyish/doo-wop punk, excellent & essential
Bloc Party
"Silent Alarm" Indie rock a la Franz Ferdinand. Best songs are when they get political or personal. "Price of Gas" ought be a hit.
Gore Gore Girls
"7x4" Garage punk gals fun Ramones-ish cd. Why aren't they on a cool indie label or a major one?
Patrick Wolf
"Wind in the Wires" Moody alternative/singer-songwriter stuff. Good songs, nice & dark but not too dark.
05 April 2005, 08:42 PM
xenacrazed
More mini-reviews
Yo La Tengo
"Prisoners of Love" 3 cd sampler of a great band. Discs 1 & 2 from early years to recently. Disc 3 is the rare stuff. It's an inexpensive set.
Kaiser Chiefs
"Employment" Brit rock, alt Brit rock, better than Brit rock from the '90s ie Pulp, Oasis. Better to dance to and better lyrics than the '90s bands.
The Decemberists
"Picaresque" Alt rock folk-rock whatever. Yay, the vocals are up front! Nice songs, cool lyrics, i liked, bought their previous cd tonite.
The Soundtrack of Our Lives
"Origin Vol 1" Wherein an excellent cult band goes major label. I give it a B, lower than i figured i would, just cuz it was a little too slick in spots. But still better than most crap on the radio.
Knights of the New Crusade
"My God is Alive" The darlings of the garage punk world! Christian garage punk!!!!!!!!!!!!!!!!!!!!!!!! It's sooooooo good, regardless of what you believe or don't believe, this cd rules.
05 April 2005, 09:16 PM
Sara
You're all going to beat me, and rightfully so. I have been listening to Natalie Imbruglia's
White Lilies Island
. It started against my will. Kelly won't let me touch her radio if we're in her car (some sort of 'well if you won't let me touch yours, it's only fair' junk) so I have been subjected to her rather pop oriented tastes. (What is it with me and dating girls who like pop?

)
I'll never tell her, but...it's not bad. She's got a decent voice and the songs are predictably about blah blah love, love, blah blah, love, blah blah, more love, etc., and if I had to, I wouldn't pop Natalie's CD in of my own free will, but it's tolerable and that's saying something from a alternative/punk/rock girl like myself.
Of course I'm still a heathen of unrefined tastes (according to Kelly) because I can't get into the
Indigo Girls
but eh. Heathens have more fun.


Waiting for
Weezer
, Rivers take me away.
____________________________

I

<3

4 foot 11, blonde, operatic wonders from Oklahoma.There is no charge for awesomeness or attractiveness
06 April 2005, 02:58 PM
Smirk Morgan
I've been liking all the
Decemberist
tracks I've heard of the new album so far. "16 Military Wives" may qualify as an earworm--except that I don't remember much beyond the "16 military wives...something something 32 wrinkled little hands..." but that rhythm will get ya.
02 May 2005, 06:14 PM
xenacrazed
I'm too lazy to look up the album titles here. That said-
i didn't care much for the new
British Sea Power
cd. It might've helped if they wouldn't mumble when singing- or if they do, at least provide a lyrics sheet or have lyrics
online thankee.
White Trash
nice'n'gritty rock, side project from the Jon Spencer Blues Explosion folks. Recommended if ya like Southern Culture on the Skids.
The new one from
The Books
was really wordy, real literate, real good though not much on the electronica side this time round.
Yet another Cure/New Order-like band,
The Bravery
. Good stuff, me like.
Los Super 7
- superstar Tex-Mex/roots band, with Joe Ely, John Hiatt, Lyle Lovett, Rodney Crowell, some dudes from Los Lobos, etc etc. I think it's mostly cover tunes but done really well. Hey next time add some ladies like Nancy Griffith or Lucinda Williams.
Bruce Springsteen
's latest has some really good songs plus a few yawners. Boss, dontcha go country on us, that twang thang ain't your scene, bub. A few songs sounded like they belonged on "Nebraska" or the "Ghost of Tom Joad" cd's.
Edan
's cd supposed to be psychedelic hip hop. Woulda been better if the dude wasn't so in love with his self.
Black Jett
's 2nd(?) cd, oh hell yeah, this thing smokes! Authentic gargagey punky rock-n-roll the way it oughta be.
Louis XIV
Nice'n'naughty.
Diplomats of Solid Sound
oh yesh, anyone like the Meters or Booker T & the MG's? Nice mix of organy R&B instrumentals with that funky bompitty-bomp tossed in. Me liked.