01 May 2005, 09:37 PM
beauTifully tragic
Concerts
saw rob thomas last night
he was good, but beth hart opened for him and she just has the greatest voice
02 May 2005, 09:28 AM
Shawn
Just be chance Friday night I got to see
Mason Ruffner
, blues guitarist probably best known for playing with Bob Dylan.
Has a very raw, awesome edge and the venue was perfect.
>>>>>>>>>>>>>>>>>>>>>>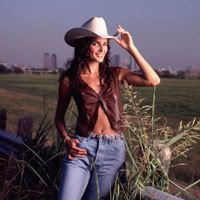 02 May 2005, 05:49 PM
xenacrazed
OOOooo i'd love to see
Beth Hart
in concert.
I did see
Mason Ruffner
in concert, about 15 yrs ago when he opened for Ringo Star & His All-Stars. He had some great albums back in the late 80s-early 90s, haven't heard much new from him lately. *note to self to dig out his albums for replaying*
11 May 2005, 09:17 PM
beauTifully tragic
patty griffin pics
great show
16 May 2005, 08:11 AM
lila997
Saw
The Dan Band
and
Papa Roach
in D.C. on Saturday. Both good.
I'll let
Arista
tell you about the mosh pits,crowd surfing and minor injuries.

I'll post photos later.
16 May 2005, 07:50 PM
Arista
quote:

Originally posted by lila997:

Saw

The Dan Band

and

Papa Roach

in D.C. on Saturday. Both good.

I'll let

Arista

tell you about the mosh pits,crowd surfing and minor injuries.

I'll post photos later.
You also saw Carbon Leaf and Chevelle.
Yeah... mosh pits and crowd surfing. I've got several bruises on my legs from getting kicked by wayward crowd surfers. I was busted in the lip by a crowd surfer's elbow (or knee... not really sure which). And to top it all off, I looked down at my arm and I had blood all over it. After a quick check, I figured out it wasn't my blood... dunno whose it was. Purell was my friend.
16 May 2005, 08:05 PM
lila997
Yeah, I had on open-toed shoes so when those mosh pits opened up I pulled a Sir Robin (a la Monty Python) "Run away! Run away!"
And now a few photos of the bands:
The Dan Band (1)
The Dan Band (2)
Papa Roach (1)
Papa Roach (2)
17 May 2005, 09:00 PM
beauTifully tragic
so how were cheville and carbon leaf??
here's what i got while i couldn't be there
http://www.geocities.com/tamoshan/ink.html
02 July 2005, 03:07 AM
xenacrazed
Drove up to Indy tonite and saw
Los Lonely Boys
&
Santana
.
Los Lonely Boys were excellent for a "new" band, though they've had road expierence before, backing up their dad who was also a Tex Mex artist. Fun party music, covers of Latin hits such as "Cisco Kid" & "La Bamba" and their own tunes are top notch. Really put on a great show.
Most of Santana's set came from real recent cd's such as "Supernatural" & "Shaman" (too bad Michelle Branch wasn't there to sing "Game of Love"). I would have liked to have heard some minor hits from the late '70s through the late '80s but can't complain, it was all good Latin rock. "Smooth" came late, then the 3 encore tunes, "Evil Ways", "Black Magic Woman" (xc loves that one) and another great fave, "Oye Como Va".
10 September 2005, 03:30 AM
xenacrazed
Woo-hoo!
The White Stripes
rule! Just got back from the show in Indy. It was fantastic. This was my first time at the Murat which is a pretty nice theatre with a good acoustics. I was in the 4th row from stage, center aisle, woo-hoo!
The Greenhornes
from Cincy were up first. A garage punk/indie band, they sizzle when they do bluesy punk and not when they go they indie rock way. Glad they did much more bluesy punk.
Finally the Stripes. Jack- in his black cowboy thing outfit- lookin almost like Tiny Tim with that stringy hair in his face! Meg situated with her drum kit on the right side of the stage, sometimes doin a strange thing with her tongue that got me excited ooooOOOooo.
Jack hardly took a breath between songs, sometimes launching back into part of a song already played though it meshed togather really great.
Highlights included "Jolene", "Blue Orchid", "The Boll Weevil Blues", "House of the Rising Sun", "The Big 3 Killed My Baby" (on piano!), "Passive Manipulation" (the Meg version plus an entended version with both Jack & Meg) and "I'm Lonely But I ain't That Lonely Yet" among others. There was one amazing acoustic number that i just can't recall the title, it might've been a different arrangement of one of their songs or a traditional tune...gotta find a set list.
Awesome show, i needed something funnage. Hope i can find some pics online from the show to post.
10 September 2005, 01:24 PM
Smirk Morgan
xc
, you bitch! The closest they got to me was Kansas City and that was in the middle of the week. 10 hour round trip in the middle of the work week just isn't quite doable these days.
Will we be seeing a new Mrs. xc?
heh..well, I will be going to Austin City Limits Music Festival the last weekend of September. Actually just the Sunday show, which is supposed to have Franz Ferdinand, Coldplay, the Decemberists and a crapload of other acts.
10 September 2005, 04:05 PM
xenacrazed
Well,
Nora
, perhaps the Stripes will show up there or close to where ya are, i think they're still adding dates to the tour. i know they're headin to Europe soon & maybe addin more US dates after they return. Keep your fingers crossed!
Here's a review from the Indy Star-
http://www.indystar.com/apps/pbcs.dll/article?AID=/2005...LUMNISTS15/509100450
Maybe "Apple Blossom" was the song i forgot, though it had a different arrangement. The encore was shorter than most on this tour, from what i've heard, but the set list was a better variety and the intensity was unmatchable. i liked how Jack would sing a mic near at the edge of the stage and then at another mic near Meg's kit, often like he was wooing her.
Towards the end, Jack tried to get Meg to speak to the audience, asking what's in her head or on her mind. She said there was nothing in her head or mind- hey, just like xc!
Meg as the 4th mrs xc? hmmmm...
11 September 2005, 02:20 AM
xenacrazed
Hey
Nora
, they have Wilco & Franz Ferdinand on opposite stages at the same time at yer Austin City Limits Music Festival- what a tough decision! Me, i'd see Wilco. Then The Black Keys are on afterwards- they kick butt big time. i wanna see a White Stripes/Black Keys tour- The B&W Tour yeah a theme tour is coolage. And they have Rachel Yamagata early on. The last outdoor festival in Indy had Hootie & the Blowfish, John Waite, Ted Nugent and other misc dinosaurs. So a visit from the White Stripes is much more needed here in the land that time forgot.
here's some pics from a WS fan site of the Indy show-
http://littleroom.whitestripes.net/index.php?act=Attach&type=post&id=300
http://littleroom.whitestripes.net/index.php?act=Attach&type=post&id=302
http://littleroom.whitestripes.net/index.php?act=Attach&type=post&id=306
http://littleroom.whitestripes.net/index.php?act=Attach&type=post&id=303
i don't think i'm gonna come down from this show for a long time.

26 September 2005, 08:12 PM
Smirk Morgan
<hack hack sputter cough cough>
sorry, it was not fan girl screaming that's made my throat a bit raw; I ate a ton of dust yesterday...
ACL: the quick run down. Every artist gave their all in spite of the intense heat (I heard it was 108 from one source, but I never got that confirmed). They brought the A game and gave energetic and outstanding performances. I think I spent the bulk of my money yesterday buying water. SmirkMorgan bought not one beer on Sunday. It was just too damned hot.
We arrived about a quarter to four and caught the last half of the
Kaiser Cheifs'
set. Very good. Though the lead singer was bright red from the heat. The rest of the band managed the trick of looking cool and unsweaty despite wearing dress shirts with ties. The keyboardist wore a full black suit. Good crowd rapport.
After the purchase of two bottles of water I made my way to
The Arcade Fire
Poor Canadians were feeling the heat a bit, but the performance was solid. I'd give a set list, most of the songs are named Neighborhood #something or other...that's not true. Well, kinda. I spent about five minutes NOT seeing them, but they sounded lovely in the scant shade near the Porta-Johns. I pushed my way back into the crowd and actually got some pretty good looks.
Next up was partway through the
Decemberists
. I thought there might have been a couple of sound problems because the vocals were a bit hard to hear over the band at the start of the songs. I also thought the patter dragged on a bit. More music less talk, please. It seemed to take the engineers about 30 seconds to figure out the mixing. I did not catch the whole set having gone to retrieve my buddy so missed the beginning. Then we had to leave early to try to get a good view of...
Franz Ferdinand
. (Sorry
xc
, but Wilco is likely to swing through my part of the country again, FF doesn't seem to make it to Oklahoma.) The crush was incredible, there was nowhere to move. I had a blocked view of the stage, we did finally manage to see part of the performance not on the giant screen. If it hadn't have been so damned hot, I might have become a screaming fan girl. I do so love it when bands deliver. I'm totally, totally a fan. It was cool to hear some new material and I'll probably be buying the new CD. Okay, not probably-WILL snap that baby up.
Break time: I did want to catch the Black Keys but I just couldn't not take a little breather. I grabbed some food and more to drink and my friend and I finally sat down a little way back from the Austin showcase stage.
Dierks Bentley
was playing. He's kinda alt-country. Not a bad set. He got my attention when announced that he'd brought along a member of Stillwater, Oklahoma's own Cross Canadian Ragweed. Whose name escapes me at the moment. Sorry, dehydrated and probably a little loopy from the heat and breathing in dust.
Coldplay
closed out the night. After the crush of Franz Ferdinand, we decided that we'd just hang out in the back...probably the farthest back we could. If I stood on tiptoe and strained my eyes a bit, I could make out the outlines of the bodies of the band members. We settled for watching the monitor. The dust kicked up by people starting to leave finally chased us out. By the time we walked out to the shuttle stop, we'd heard most of the set anyway. Solid performance, but again, a bit heavy on the talking. I don't mind a little chatter during guitar switch-outs, but I thought it kind of dragged down the show a bit. Chris did wish those of us leaving a good night just as we got on the bus. Excellent timing.
If you can catch any of these acts when they come through your town, I can reccomend all them. I'd love to see and hear what they can do when it's NOT ridiculously hot outside!
26 September 2005, 10:27 PM
lila997
Cool! I'm going to see
Coldplay
on Friday...fun!
26 September 2005, 10:32 PM
Smirk Morgan
Here's hoping it's not dusty!
27 September 2005, 08:38 PM
xenacrazed
Sounds like a groovy concert there,
Nora
.
I'd like to hear all of the groups ya seen, someday or another, though i've never heard Dierks Bentley. i liked Kaiser Chiefs' cd really well. The Arcade Fire album took awhile to like. It's a concept cd that's why all that neighborhood stuff.
Wilco's gonna be in Indy next month & i'm kickin myself for not gettin a ticket. i figure this is their time, their moment in the sun before things either get bigger for them venue-size wise, or they start droppin more old songs when the next cd arrives or members leave the band. i shoulda gotta ticket, darnitt. i figure Franz Ferdinand will be around awhile & i'll see 'em when they get a couple more albums under the belt. But Wilco, darnitt, they're at the same moment in time that REM was at in '86 or The White Stripes will be with the next cd- see 'em now or possibly never see 'em. Or not, i could be wrong, i was wrong once, back in '87 for a second. hehee
So, does Coldplay make the transition from cd to live very well? i've read where Coldplay plays cold live. Ahem.
Wha? no Black Keys???!!! Aw ya missed a great one there!
27 September 2005, 10:41 PM
beauTifully tragic
i could hear music coming from across the street so i looked up who was playing tonight
da white stripes.. with the shins and m ward (who?)
28 September 2005, 06:00 PM
xenacrazed
m ward is like alt-country with an old timely, nostalgic attitude. Pretty good stuff, i think.
xc rant time: Kings of Leon were here recently. Unfortunately they were at a dive called the Bluebird- a hole-in-the-wall nite-club with terrible, terrible, terrible acoustics. The place has been remodeled a few times, always for the worse if you go there to hear a band. For the better if you go to get drunk and ruin the time of ppl who go to hear a band. Yet good artists (Neko Case, Iron & Wine, Kings of Leon, etc) keep booking the joint- why, i don't know. I suppose if you're in the front 4 rows at the Bluebird, it isn't so bad. But it's like a sardine can when a name band plays there. So there was no way i was gonna dish out mullah for the KOL when i know they'd sound like crap in that dump. *sigh* Just when "Molly's Chamber" is back on heavy rotation in my head, too. Maybe i should go on a keep-the-bands-out-of-the-bars campaign...
28 September 2005, 07:50 PM
Smirk Morgan
quote:

Originally posted by xenacrazed:

So, does Coldplay make the transition from cd to live very well? i've read where Coldplay plays cold live. Ahem.

Wha? no Black Keys???!!! Aw ya missed a great one there!
Did I mention that I'd been on my feet for about four hours straight in hundred plus degree temps? *s* 'sides, my friend probably would have killed me if we didn't do a sit down, lol. I wish there had been just one dead period, so I could rest up.
Coldplay didn't sound too bad to me. My only problem with 'em was that they were rather talky. In 90 minute set I think they only played about half a dozen songs. I didn't stick around that long, that's what the reviews were saying.
01 October 2005, 01:03 PM
beauTifully tragic
i enjoyed coldplay last night
they weren't very talky at all
http://x702.putfile.com/videos/27311173059.wmv
03 October 2005, 07:59 PM
xenacrazed
i don't think Coldplay has ever shown up around these parts. i wouldn't care if they were talky if they'd just show up. i'm tired of classic rock bands showing up. Who cares about Steve Miller Band & Jimmy Buffett? Usually if a new artist (definition of Indhickiana new artist- someone/group from late 1980s onward) shows up hereabouts, it's a hole-in-the-wall niteclub on a week night. With the White Stripes or Wilco being the rare exceptions.
i been thinkin bout seeing Patty Loveless in concert later this month but dread the hick place where she'll play. There's a cool theatre in my town where she should play. She could get adventuresome there and sing some hip covers as well as her more No Depression numbers. Dream on, xc.
04 October 2005, 04:59 PM
Ame
I never go to see concerts, but i always read this thread.
I wanna go see Bon Jovi.. but their *world tour* doesn't include Australia.. sucks
i've seen them every time they've been out here

06 October 2005, 09:06 PM
Bambam
Saw the Sterophonics last month in Birmingham, cracking concert, kelly & the lads were tops.
Just today bought tix for Bon Jovi in Coventry June 7th.
So cannot wait to see them again saw them in Wolverhampton`03 one of my all time favourite gigs.
Depeche Mode in Manchester March 31st.
My all time favourite group this is the one i`m really looking forward too with a new album out on the 13th October it`s all so very good.
04 March 2006, 12:29 AM
xenacrazed
The good news- Wilco is comin' to town! yay!
The bad news- my seat isn't gonna be a good one. The auditorium reserves 20 aisles of all sections of the orchestra for the college students. *pouts*
Possible better news- if there's a good seat left in the student section by the day of the show, i can trade my ticket in for it. (crosses fingers for luck)
No word yet on who's gonna play Indy Jazz Fest this year. Me is dying for good live music.