09 October 2006, 05:51 PM
lila997
Concerts
Off to Boston for Jenny Lewis & The Watson Twins.
Jenny is from Rilo Kiley (saw them with
Tam
and
Arista
about this time last year) who I believe is still together. This is Jenny's solo-ish project. Others in the band have formed The Elected.
Report to follow...
19 October 2006, 06:47 PM
xenacrazed
OOOOOOoooo Jenny & the Twins are hotties!
Last weekend i caught
Regina Spektor
live at a local theatre-turned-arts-hall. The opening act was
Only Son
. Only son is only one dude- and his iBand. His band is recorded background music on his iPod.

So Only Son would strum his only guitar while his iBand played along. *sigh* The novelty on this wore off after about 30 seconds. The straining- to-be-humorous indie songs weren't very good anyway, with or without the iBand. i can see where artists use synths and other means to play orchestrated music instead of hauling around or hiring a lotta musicians or an orchestra but when it comes to drums & guitars, play it live and keep the iPod thing home- or play it for the myspacers who can't see the pitifulness of this nonsense. i'd rather have seen Ashlee Simpson lip-sync, at least she's pertty to look at.
After a 45 min break,
Regina Spektor
hit the stage and Only Sonny Boy was immediately forgotten. Regina was solo for several songs before her band joined in. Oh what a voice! Think Neko Case but instead of that restrained country voice just waiting to be unleashed, Regina's restrained vocals lean towards jazz and that Ronstadtian realm of heaven that few singers reach. i guess both Neko and Regina are waiting for the perfect songs to unleash those already-beautiful voxes around but don't wait too long, honeys, cuz you don't wanna fade from the scene. Regina's songs are very well written. If ya haven't heard
Begin To Hope
, run out and buy a copy (do not steal the album by illegal downloading!). A fab album, "Samson", "Summer in the City", "Lady", "Edit", "Hotel Song"...all great. She sang most this album and much from the previous release,
Soviet Kitsch
, including my two faves from that album, "Us" and "Your Honor". The crowd loved her, she loved the crowd (she was surprised how great a reception she was getting in Indhickiana, but hey, my town voted against Bu$h, so we gots more in common with her NYC anti-folk attitude than most small towns). She flubbed the lyrics to "Samson" before one of the 3 encores, but the crowd sang the correct words to her, which floored her! Great show, lotsa gorgeous women in the audience (future wives everywhere!!! *drooooool*), xc walked out pleased as a wolf in a hen house. This week is
Arlo Guthrie
and Family at the same venue. Yeah, Family, his sons and daughter. No Only Son this time, heh hee.
28 October 2006, 12:18 AM
xenacrazed
Last Saturday nite i saw
Arlo Guthrie
and Family at the same venue i saw Regina Spektor.
Sarah Lee Guthrie & Johnny Irion
were there as part of the Fam. i had hoped those two would have been the opening act but they were on stage with Arlo the whole show and sang a few songs apart from Arlo. Arlo sang his hits- "Alice's Resturant", "City of New Orleans", "Coming into Los Angeles", etc- but sang more songs from his papa, Woody Guthrie. Music was the upside of the show. Arlo talked too much for my mullah. i wanted to hear more music not stories but oh well. i must have been the only person there left over from the Regina show (except for the ushers & usherettes). It was a mostly ex-hippee crowd, pretty mellow bunch, just right for all them acoustic guitars. Me, i woulda prefered some electric guitars as well, get the juices flowing, as all that mellowness cuts off the flow of blood to my so-called brain. heehee Not sure what or when my concert will be.
20 December 2006, 10:17 PM
xenacrazed
Earlier this month i caught
Over The Rhine
at the same venue that featured Regina Spektor & Arlo Guthrie. Over The Rhine is an indie alt/countryish band from Cincinnati with a lead female vocalist (though sometimes she shares vocals with the keyboardist). The show i went to featured songs from their upcoming '07 album (which were very good) and from their new holiday album. i dunno, i wasn't in the mood for couplesy holiday tunes, so i drifted off in daydream when those were being sung. Twas a mellow show, so now me thinks me needs a loud concert after 2 mellow gigs in a row. Where's Metallica when ya need 'em?
11 March 2007, 03:04 PM
Smirk Morgan
Last night I caught
Tom Brosseau
at Bend Studio, a yoga/recording studio. Tiny, tiny, tiny. Not many people know who Tom is in Big D--he hasn't done much touring here. So other than the other music act and the family of the other other act, I think there were just three or five of us there for Tom. It was really more of a recording session than a concert, but it was a cool experience. Sitting in that studio, I kept thinking to myself, "this is sooooo what
xc
would want to sit in on."
Tom mostly sang off his new album
Grand Forks
. He talked a little bit about how it took him 10 years to come to terms with the 1997 flood and that this album was the result. After nearly a year working with Disaster Assistance Office, it kind of struck a chord with me.
Coolest thing about the evening? It was such a small venue that I went up and talked the man himself. I don't ever do that, preferring to keep my tongue-tied admiration from a distance, but I figured I might never get a chance like that again. Tom has to be one of the nicest guys. Great artist, great performer and a nice guy. wow.
He's hitting SXSW this week. I urge the Austin Scrollers to check him out--I think he's scheduled two lunch time gigs and one evening gig.
Check out the
official site
and for a more up to date look, check out
Tom's myspace page
This message has been edited. Last edited by: Smirk Morgan,
20 June 2007, 10:07 PM
Smirk Morgan
The Black Keys 6/19/07 Ridglea Theater, Fort Worth TX
Awesome, awesome--I'd say it three times, but there's just two of them. I love the bluesy rock music these guys put out. I can't follow the lyric worth a damn, but I don't care. It's all about just listening and experiencing the music. And thats okay by me.
01 August 2007, 07:00 PM
xenacrazed
Caught my first live act this year. A rockabilly band from Indy played down hereabouts recently.
Mandy Marie and The Cool Hand Lukes
were very good. Fronted by a female vocalist, they ripped through a lot of covers and a few original tunes. Chatted with Mandy afterwards, who thanked me for dropping by, which differed from the audience members who were frightened when xc entered the premises. Hope the band gets to release an album soon, they's mighty good. Here's also hopin' i get to see more live acts this year. Stop avoiding Indhickiana, you musician concert types, i promise i won't toss my dirty socks on stage!
09 August 2007, 09:02 AM
lila997
Saw Brad Paisley in concert last weekend. Yeah, yeah, I know.... such country-pop... I was only semi-excited about the show- more excited about the road trip to the CT casino with friends to see it- but it was a good show. Coolest part was the encore when he brought Glen Campbell (who was apparantly performing elsewhere in the venue) on stage and they covered Cash's "Folsom Prison Blues".
Unfortunately, to my friends' dismay, I decided to cover Campbell and sang 'Rhinestone Cowboy' all the way home.

14 August 2007, 01:13 PM
Shawn
Now I would definitely pay to see Glen Cambell. One of the best guitar pickers in the biz.
>>>>>>>>>>>>>>>>>>>>>>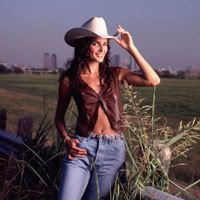 24 December 2007, 11:21 AM
xenacrazed
Jeepers, i keep forgetting about this thread. This fall, i saw
Andrew Bird
at the Buskirk Theatre. He sang mostly newer songs which was kind of a bummer.
Also caught
Yo La Tengo
at the Buskirk. Excellent show. They did requests, rarities and talked a lot about the songs. Best show i seen all year.
12 April 2008, 01:29 PM
xenacrazed
Saw
Feist
last night at the IU Auditorium. This was the same place i caught Wilco last year. The sound was much better then, as last night it seemed kinda muddled.
Feist is such a hottie (time for another xc wife!). i luvs her voice, even with the poor sound it was great. Highlights of her show included "Brandy Alexander" (my favorite Feist), "1234", "I Feel It All", "Limit to Your Love" and "Honey Honey". Her band was pretty good, i liked when they did a jazzy bossa thing on a couple numbers.
Opening act was
Hayden
, scruffy folkie from Canada, eh? Yeah, the audience was talking so much during his set so it was hard to heard what he was singing (plus the sound was crappy). But with so many babes in the audience, i was paying more attention to them!

21 April 2008, 03:54 PM
xenacrazed
So last night i snuck into Kentuckee and saw
Robert Plant
and
Alison Krauss
at the Louisville Palace. They sang all of their
Raising Sand
album.
Alison- who's a total babe- sang a few of her songs that she does with Union Station. She's a great singer, i really love her voice. She didn't move or wiggle around much- lawdy how i'd luv to have seen that woman in shorts wigglin' on stage. But she wore this long gown thingie. She's excellent on the fiddle, i luvs hearing her play that thing. Plant did sing on her songs as well.
Robert (& Alison) sang 4 Led Zep songs- "Black Dog", "Black Country Woman", "Hey Hey What Can I Do" (this was amazing!) and most excellent was their version of "The Battle of Evermore" on which Ali sang a good part of the beginning of the song.
Plant said this was the beginning of his 2nd career. i luved their album and i hope they release more stuffage, especially a dvd of the tour.
Guitarist/singer-songwriter/producer
T-Bone Burnett
joined them on stage and sang a couple songs. The opening act was
Sharon Little
, who sang country rock/blues and was pretty good.
24 April 2008, 08:22 PM
xenacrazed
i was gonna see a show tonite but things didn't work out. i mean theys didn't work out in my favor. i was gonna see
Kentucky Nightmare
,
Maps & Atlas
&
Margot & the Nuclear So & So's
. That's local band-Chicago band-Indy band. i woulda posted here tomorrow how i luved the show. i woulda told yuns bout the babes in the audience i drooled over. i woulda mentioned the great music and songs. Instead i tell ya i missed it waaaaaaaaa!

But hopefully i'll see Bevis Frond in June and maybe go to Indy Jazzfest in May.
28 February 2009, 12:42 AM
xenacrazed
*Blows dust off this old thread*
Last October i got to see
Julie Fowlis
in town. She's a Scottish folk singer who sings in Scottish Gaelic. Can't understand what she's singing but sure loves her voice. She explained (in English) what the songs were about. i recognized many of the songs as her albums i do listen to a lot.
Also last fall, i got to see
Margot & the Nuclear So & So's
and they were very good. i can't recall the opening two acts though the second band almost put me to sleep!
Last Friday i saw
The Watson Twins
and
Ben Kweller
. No Jenny Lewis with the Twins, unfortunately. But they were very good at cover songs and at songs that were upbeat. Their voices are too buried with ballads. They performed a great cover of "Ain't No Sunshine". Kweller sings power pop though his latest album is more in a country-rock style. In concert, his style was both power pop and acoustic country-like songs. My fave Kweller song is "Sundress" and that was one of the final numbers he performed. Very nice show.
18 July 2009, 05:33 PM
xenacrazed
Among the recent madness, i saw
Neko Case
at Clowes Hall, Butler University in Indy. Great show, excellent set list of new & old songs. Amazing sound in the auditorium which only made better Neko's brilliant set of vocal pipes. Ooooh she's a pretty thang too, and there was sex joke banter between her and the backup singer, Kelly Hogan. Having front row seats made it even better and i was pleased as punch to finally see Neko live yay!
26 August 2010, 11:05 PM
xenacrazed
well they let me into Kent-yuck-y again for the state fair in LouieLouieVille. Oh my goodness, so many pretty girls & women! So many potential wives of xc! So many ladies screamin when they saw xc droolin at 'em!
There were some outdoor musical acts. These ranged from local yocals doing bluesy rock, country & some kinda jug band thingy. Ah dunno, the country band was two guys, two girls and the guys sounded hideous. The two girls had good harmony but only one of them sounded good on her own. There was also an Elvis impersonator who packed the biggest crowd. But he looked more like Neil Diamond, thank ya v'ry much.
Joan Jett & the Blackhearts
played a free gig. She started off with "Bad Reputation". Joanie looked good, very good for as long as she's been at it. She did all her hits but not much more. Guess a free show don't include the Mary Tyler Moore theme that xc wanted to hear.
Towards the end of the show, with about half doz songs left, she musta hurt herself or sumtin. She would sit down & sing & play guitar. It wasn't like she was too stoned as her singing & playing wasn't affected. At the end of the show, the crew had to help her out as she could barely stand. i never heard what had happened no matter how much i googled it. Maybe she saw me in the stands, smelled my dirty socks from the stage and it made her too ill to stand up. If so, then i is sorry, Ms Jett.
11 September 2010, 12:12 AM
xenacrazed
Is anybuddy still here 'cept me & the spammer?
Monday nite i went to a show at the IU Auditorium. First up were the
Dum Dum Girls
. They have one album out and a rare hard to find EP. They sing garage rock, kinda sounding like the Shangri-Las meet Thee Headcoatees. Yep, they is an all girl band. They sounded great, looked great & put on a great show.
Next up was
Beach House
. The sound in the place wasn't too good for this act. Vocals didn't carry correctly. But the light show was awesome, i'll give 'em that much.
23 May 2013, 04:01 PM
xenacrazed
Jeepers haven't posted here for almost 3 years.
i saw
Daniel Bachman
a few weeks ago at an in-store performance at Landlocked. He does all acoustic guitar music that he labels psychedelic Appalachia. Pretty fine stuff. i have 3 of his albums. Not your average back-porch mountain music, but deep spooky stuff.
23 May 2013, 04:03 PM
xenacrazed
i know i've seen other artists since Sept 2010.
i saw
Arlo Guthrie
,
The White Wires
and others i can't recall yet.
i'll post 'em as soon as i remember.
24 May 2013, 04:51 PM
xenacrazed
i remembered i saw
Rev Peyton's Big Damn Band
last year. They do an Americana/roots/ hillbilly/rockabilly thang. Pretty good stuff. Old timey instruments and they look like they just stepped outta Arkansas in the 1930's.
26 May 2013, 11:22 AM
xenacrazed
Forgot to mention i saw
John Hiatt
last summer at the Buskirk-Chumley. Very good show for a rock-n-roll veteran. It was a trying time of life so i needed a good show.
26 May 2013, 06:07 PM
xenacrazed
Today i saw
Alan Licht
at an in-store performance at Landlocked Records. He plays experimental, avast-garde, instrumental guitar. He also is currently in Lee Renaldo's band. So if ya dig the experimental side of Sonic Youth, you will probably dig Alan's solo stuff. It's mufti textured & way funky on a noise-rock level. i dig it!
14 June 2013, 10:58 AM
xenacrazed
Thinking bout seeing
Eleanor Friedberger
at some club in Indy next week.
Then
Steve Earle
will be in town in early Aug. See if i can afford tickets.
24 July 2013, 08:38 PM
lila997
Yeah, just realized I just posted a concert thingie in the jukebox thread. I'm a little rusty re: this scrolls stuff. Go to other thread for my concert pics.
02 August 2013, 12:05 PM
Shawn
Recent shows...
Michael Franti (and hoping to see him again in Oct)
Carolina Chocolate Drops
>>>>>>>>>>>>>>>>>>>>>>